E aí galera! Belezinha belezinha?
My sincere apologies for the lack of posts, more specifically the lack of words. Brasil and I have a very personal relationship and reporting about it here, as I did with the Spain and the Azores and the voyages in between, doesn't feel so right. Sei lá. It's sort of daunting-- like if you were to write a public essay about your best friend or your older brother. Besides, a lot of the words that I want to use to describe my life in Brasil have frustratingly flat English translations (beleza, tristeza, saudades...) The last of my excuses (é o seguinte): I'm trying to not think in English very much. (Pô! I've finally begun dreaming em português, which makes my snoozes very lyrical and legato.)
Então. Here are some fotos. some brief descriptions. Some secrets, some audible whispers, some smirksauce.
To begin, here is my front yard.
I live in Lagoa de Conceição, in the city of Florianopolis, on the island of Santa Catarina in Southeastern Brazil. Here is my adorable house where a lot of love and art and HUNGO and tortas de aboboras and crowded music nights (sonzeiras!) and stolen bicycles and orange cats and haircuts and other great things happen. Here is a rare photo of my house with no people in it.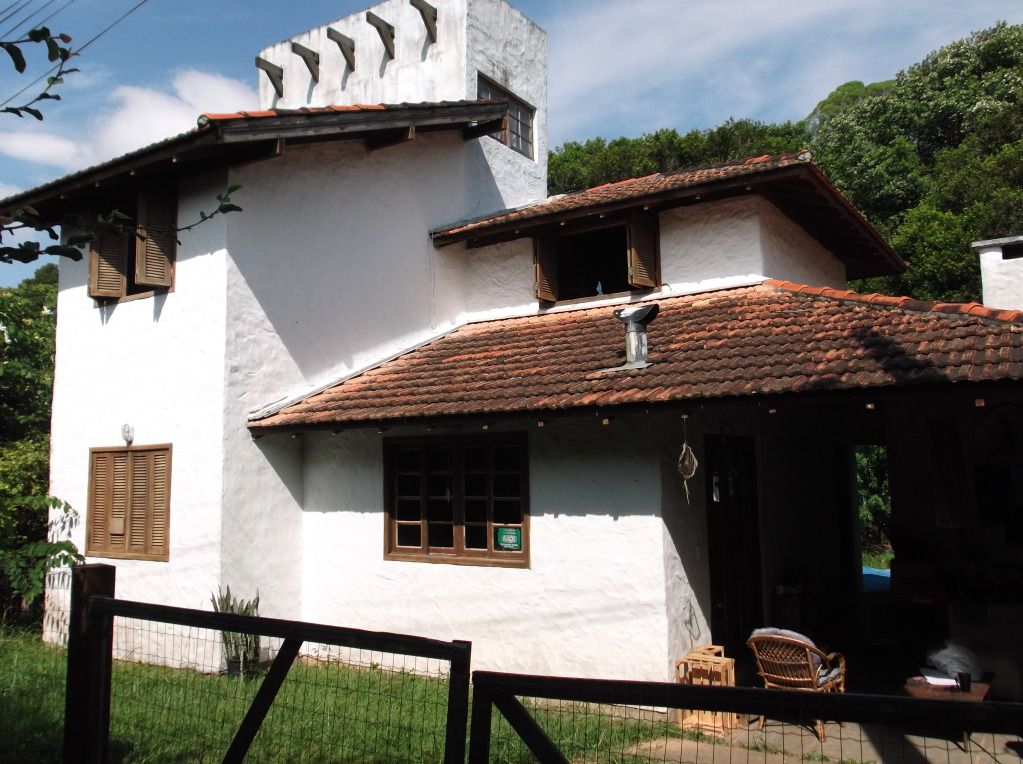 There is a beautiful lake in front of my house. I live in a bungalow in the backyard, next to the garden, nestled into the edge of the woods, which you climb through to reach the sand dunes, which will lead you to Joaquina Beach. It is very nice.
Here is one part of the galera. I live with Dioguera (left), a badass who does amazing work with the Guaraní. Gaúcho is a beautiful biologist who just moved to the state of Bahia to work with golden monkeys. Guz y Nina are our amazing friends from Barcelona who are spreading their infectious love all around South America. Not pictured are my other housefriends, Mick and Bruninha, as well as the other mass of folks who are constantly stopping in. It's a good place to be and feels like home (also like 2905 Ferry).
We happen to live behind what is arguably the best bar in Florianopolis, a Sam Bonds equivalent (but with more samba, e também mais alegria), called Casa de Noca (~Our House). It is owned and managed by four of our crew (Brigadeiro, Cheech, Chong, e Japa). I sling drinks here a few nights a week. The pay is pretty foda but the incredible music and company is worth it.
I am very very lucky.
Churrasco com a galera! depois da ceremonia e do temazcal Guaraní nas dunas!
(BBQ with the gang! after a traditional Guaraní ceremony and sweat lodge in the dunes!)
On another note, Carnaval was crazy and colorful and too much. Two of the five nights, I literally locked myself in my bungalow (god damn! I love that word) and hid.
Maracatú na pracinha
Festa à Fantasia. I was a gypsy, which is okay to say, because there is no sense of political correctness here in Brazil.
I never knew rotting bananas could be so beautiful.
These pictures are now all out of order but these things happened too:
This is São Paulo. It's not worth rotating.
I left Eugene nearly 7 months ago to travel to the Azores with Arlo. (Interestingly enough, this island of Santa Catarina has a huge Azorean influence and it has been super cool to see that firsthand). But what a whirlwind since then, eihn? Vermont with Dru, DC with Uncle George, Vitória c/ Karen e Heráclito, Salvador and Natal with Ian, Minas Geráis with Arlo and the 40 cousins, the Nordeste again with Ian and William (ps.
check out the website I made
, thanks to Arlo and Joe Pleasure... this is where December and January went), then São Paulo area with the father and finally here in Florianopolis!
In all that time, I have done many things. There are also many things not yet done. Such is life.
[One of my favorite quotes, by Charles Wright from that diggety song "Express Yourself!" by way of Shy's Super Soul CD: "It's not what you look like, when you're doing what you´re doing... It's what you´re doing, when you´re doing what you look like you´re doing!!]" So stay tuned for some exciting news about what I'm doing these days...
You are all so special to me and I trust that you all have been taking good care and loving without bounds. Send me some news about yo fine selves! I hear Spring has arrived? (Bah.. also heard of some late snow fall in Oregon!) Summer is wrapping up down here...
Can I keep on avoiding the winters?
:)
Love Q